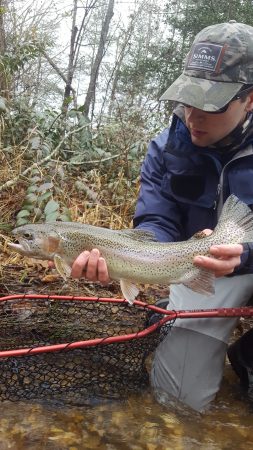 Public Wade Trips:
In addition to trophy trout waters, Unicoi Outfitters Holds permits to a massive portion of Georgia's Public Water Streams. We are licensed to fish on streams in the Chattahoochee, Sumter, and Nantahala National Forests, as well as such non-USFS locations as Smith Creek and Dukes Creek at Smithgall Woods. Some of our favorite areas include the Upper Chattahoochee, the Chattooga, the Tallulah, and the countless wild trout streams of the southern Appilachians.  We also fish the Natahala, Tuckaseegee, and Fire's Creek in North Carolina. 
Georgia's public access water offers opportunities for all skill levels of fly-fishermen.  Delayed Harvests, Such as Smith Creek offer fantastic fishing for people looking to learn, or to hone their skills throughout the winter months. More experienced anglers may opt for Dukes Creek, a public trophy trout fishery, located within 15 minutes from the shop.
Float Trips: 
We proudly offer guided Float trips on the Toccoa Tailwater, Toccoa DH, and Tuckaseegee Delayed Harvest waters.  
Unicoi Outfitters is the ONLY guide service with river access to the Toccoa Tailwater through our own private property.  
We tend to recommend float trips to slightly more experienced anglers, that are able to make good casts and mends.  Float trips are also some of our personal favorites, due to the beautiful scenery, great fishing, and ability to cover more water than would ever be possible on a wade trip. Boats will fit two clients, and a guide at the oars.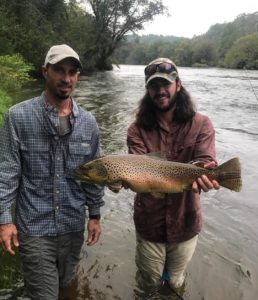 Unicoi Outfitters is a permittee of the Chattahoochee-Oconee, Sumter, and Nantahala National Forests
In accordance with Federal law and U.S. Department of Agriculture (USDA) policy, Unicoi Outfitters is prohibited from discriminating on the basis of race, color, national origin, sex, age, or disability. (Not all prohibited bases apply to all programs.) To file a complaint of discrimination, write to: Director, Office of Civil Rights, Room 326-W, Whitten Building, 1400 Independence Avenue, SW, Washington, DC, 20250-9410, or call (202) 720-5964 (voice and TDD). The USDA is an equal opportunity provider and employer.