Warm Water:
Bigger, Faster, Stronger
North Georgia's Best Kept Secret? River Bass
River Bass are veracious predators, and strong fighters- a worthy adversary for the fly rod. The Chattahoochee river boasts plenty of water for both Shoal Bass and Striped Bass depending on the time of year. The 'Hooch is also home to Spotted Bass, Chattahoochee Bass, Largemouth Bass, White Bass, Longnose Gar, and plenty of Sunfish species.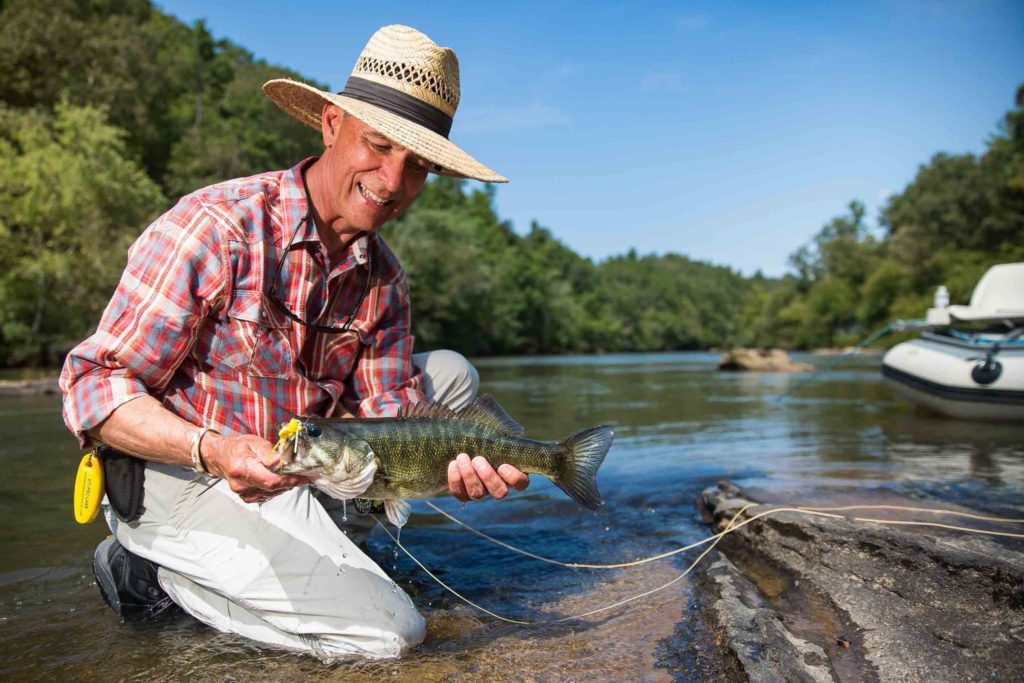 Shoal Bass
Shoal Bass are a unique bass species, resident to only the Chattahoochee river drainage. Shoal bass are current oriented and can be found in the nastiest whitewater, riffles, and pools- making them an extremely fun target species for the fly-rod. Most fishing consists of Poppers, Streamers, and Craw-fish patterns, but when you hook up, prepare for a fight- this isn't a trout! 
Shoal Bass trips are guided out of a 3 man smithfly raft, and will typically consist of both float fishing and wade fishing to cover hard to reach water. If you have never hooked into a shoal bass, you owe it to yourself to book a trip. Beautiful scenery, beautiful water, beautiful fish, and, in our opinions one of the best fighting fish- pound for pound. 
Striped Bass
The Fresh(Salt)water King! The Hardest Fighting Fish in Georgia, Period. Couple that with the river's current and structure, and you have an all out tug-of-war on your hands. Stripers typically reside in Lake Lanier most of the year, however come spring the stripers attempted a spawning run, and it is game on! 
Striper trips are done in a 16′ G3 Jet boat that can speed through some scary shallow water. Just the boat ride is worth the trip!